Frozen star Idina Menzel: Let It Go has changed my life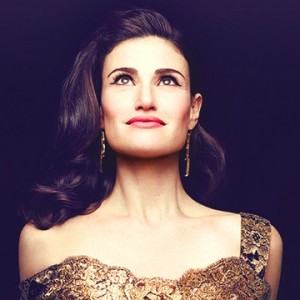 The singer who helped to make Frozen such a huge hit around the world is coming to Birmingham.
Idina Menzel turned the song Let It Go into a global phenomenon when she sang it as Elsa the Snow Queen in the Disney film.
Now Birmingham audiences will be able to hear her sing that live at Symphony Hall on June 22, along with many other songs, including her versions of the rock songs Creep and Roxanne.
Before Frozen changed her life, Idina, 44, won a Tony Award for originating the role of Elphaba in Wicked on Broadway.
She sang that musical's iconic song, Defying Gravity, on the hit TV series Glee.
Now she's on a 40-date world tour which includes Korea, Japan, America and Birmingham, before going back to the studio to make Frozen 2, due to be released in 2018.
The actress recently changed her hair colour to blonde and joked about it being part of her preparation for the sequel so she could look more like Elsa.
We talked to Idina and here's what she had to say.
What effect has Frozen had on your life?
It has changed it. It's wonderful to have a song that's heightened my profile and helped people get to know me and given me more opportunities.
I am surprised that Let It Go has become such an anthem. I knew it was a beautiful song when they sent it to me to learn, but I had no idea it would become such a phenomenon.
As much as it speaks to young people, it speaks to me as a woman. It's a reminder to myself about the things that are important, about not hiding those things that make us powerful.
Those things that set us apart are the things that make us extraordinary.
It's something we grapple with as strong, fierce women – you can suppress that because you are afraid of being threatened or disliked.
How do you cope with little girls coming to your concerts now, believing you are a queen?
A wide demographic is a gift but also tricky. I'm a 44-year-old woman on stage and I might swear about something.
Then I realise there's a mom on the front row with her eight-year-old daughter.
It's challenging but I have to be myself.
What do you hope to achieve from your live concerts?
The thing I'm most proud of is my ability to give a very intimate performance and for people to feel like they have really got to know me when they leave the venue.
I want to introduce new generations to what live performance is, and it isn't lip synching or auto tuning.
I think people's ears have changed because what they hear in a record is often not what's really going down.
I want to be perfect but I know that the greatest performances aren't perfect, it's the beautiful imperfections that move us.
If I have to endure criticism when I miss a high note, although it hurts my feelings, I can cope.
When people come to hear you live and see what you can really do, they get it. They see what the difference is.
You have to be willing to make mistakes. Things go wrong, whether it's my boob coming out of my bra at Radio City Music Hall or forgetting the words, or someone shouting something out that I find funny.
But it's good that it's not exactly the same every night. I want the audience to feel they get something specific and particular to that evening alone.
Will you have lots of costume changes?
When I was a little girl I remember seeing Diana Ross and she had 12 costume changes, which was wonderful.
But I don't want to lose momentum and the audience's attention. I'm a bit of a control freak and I don't like to leave the stage, so I will be more boring and wear the same outfit.
I'm playing around with a dress that I can have a couple of different looks with and I can change while still on stage.
I always take off my shoes at some point during a concert as I need to get comfortable. Heels make me look taller and skinnier but it's useful to sing grounded on the floor.
Only people like Beyonce can dance in high heels and still sound great.
I'm not afraid of hard work and people in the theatre, especially singers, are like athletes. We have to train and build up our endurance.
What are the best and worst parts of touring?
I would say the best is seeing the world, but a lot of times you don't really get to see the cities. So I think it's bonding with my musicians and getting to know them as a family. It's like bonding with the cast in the theatre.
The worst part of touring is being tired and constantly worrying about whether you're in the best voice and if you're coming down with something.
I don't think I've ever been to Birmingham before. I remember playing the Royal Albert Hall.
I'm really excited to see all those beautiful theatres.
You sang the National Anthem at this year's Superbowl in front of 100,000 people and with millions watching on TV. Was that your most high pressure performance?
Well it was a lot of pressure but third, I think, behind singing for the President of the USA and Barbra Streisand.
I remember Whitney Houston singing the anthem when I was a girl better than anyone and thinking "I wonder if I can ever do that?".
So I was excited but I took my time and enjoyed it.
John Travolta famously introduced you at the 2014 Oscars as Adele Dazeem. Have you ever been tempted to mess up his name?
No! Although I introduced Mariah Carey at the Billboard Awards recently and wondered "Would people find it funny if I called her Maria Curry or something?" But I thought it would probably not go over that well.
Does criticism on social media upset you?
Yes, it does get to me. I try not to read the stuff but once in a while I do and I read something that's really hurtful.
But I try to focus on my family and my son (Walker, five, with her ex-husband Taye Diggs) and the things that are much more important in my life.
I believe in myself and what I'm doing. You do the best you can, that's all you can do.
Why did you change your hair colour to blonde and will you still have it when you get to Birmingham?
I went blonde on a whim, I'd been in the same costume every day for 18 months in the Broadway musical If/Then and I wanted to change it up.
Maybe I will be blonde on tour, maybe in every city I will have a different hair colour!
What other musicals would you like to star in?
It's no secret I love Funny Girl and Don't Rain on My Parade, I've done them on Glee and for Barbra Streisand, but other than that I want to keep originating characters. I'm always looking for that original piece of theatre.
It's really hard to walk in the steps of iconic people, I'd rather find my own way.